---
Working Dog Memorial at Tier 1 VMC
---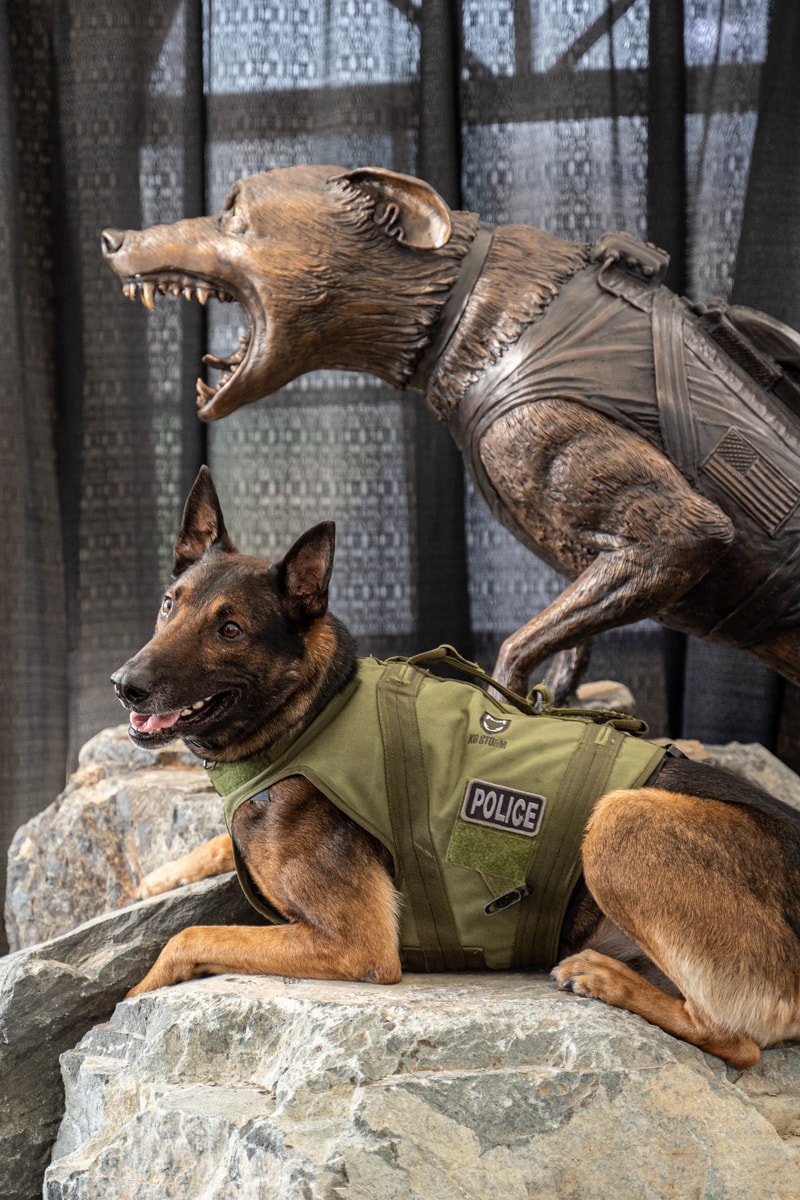 Perhaps no animal has provided a more loyal, dedicated service to mankind than the canine.
In dedication to the sacrifice, sometimes an ultimate sacrifice, Dr. Sean McPeck created and designed the K9 Memorial alongside his father, Hugh McPeck, who passed in 2014.
In July 2018, congress permitted the Ranger K9 Memorial to honor our Multi-Purpose Canines (MPC) to be erected at the Ranger Regimental Headquarters at Ft Benning GA.
The artist, Kevin Kresse, permitted a replica of this statue to be cast for Tier 1 Veterinary Medical Center in Palmer, Alaska.
This Memorial was debuted on October 24, 2020, in dedication to all working dogs who have tirelessly spent their days working for the betterment of humankind.
The event was attended by the following organizations and law enforcement groups, as well as military personnel, political figures, and their representatives.
Local Organizations
Paws for Purple Hearts
Obedience Training Club of Chugiak
Alaska Solstice Search Dogs
VCA Eagle River Animal Hospital
Law Enforcement
Anchorage Police
Wasilla Police
Alaska State Troopers
Ted Stevens Airport Police & Fire
Tier 1 Vet owner and Army veteran, Dr. Sean McPeck, who served three tours in Afghanistan, led the effort to create the original memorial at Fort Benning, Georgia. "They make sure Rangers come home. All of them are going to be remembered because of the Rangers that get to come home and pass on those Ranger traditions and keep that warrior flame burning for generations to come," explained Dr. McPeck.
Seventeen Multi-Purpose Canines have given the ultimate sacrifice, while 14 more have been wounded in action to date. These dogs are tasked with locating and detecting improvised explosive devices and are often the first to enter hostile areas. The 75th Ranger Regiment first deployed its dog teams in 2007 in support of operations Iraqi Freedom and Enduring Freedom. Their efforts have saved countless American lives overseas.
Whether service dog, police dog, or search and rescue, the bronze memorial at Tier 1 Vet will be dedicated to honoring all working dogs, past, present, and future.
"Just as those dogs work hard to protect and preserve the lives of their handlers, the staff at Tier 1 will always work hard to protect and preserve the lives of every animal that comes through our doors," said Dr. Sean McPeck.
Tier 1 Vet is especially proud of its military roots. Six U.S. Army veterinary veterans are on the staff, including owners Dr. Sean & Dr. Sara McPeck. Their military experience has been an invaluable asset here in Alaska, as they continue to compassionately care for animals on the civilian side.
Be sure to take a moment to appreciate the memorial and the heroic canines it honors at your next visit to Tier 1 Veterinary Medical Center!
---