Advanced Imaging
Tier 1 stays on the cutting edge of technological advancements for diagnosis and treatment.
Advanced Imaging
Tier 1 stays on the cutting edge of technological advancements for diagnosis and treatment.
---
Basic imaging tests such as x-rays are important tools to diagnose disease or injury, but they have limitations. Advanced imaging techniques are often needed to tell the full story. However, this equipment is not commonly available at most veterinary hospitals. At Tier 1, we offer advanced imaging technologies including CT scans and fluoroscopy to aid in proper disease diagnosis and treatment.
---
Vet Referral for Advanced Imaging
Request a Mobile Ultrasound
---
0
+ Years of Veterinary Experience
A computed tomography (CT) scan is a series of x-rays taken through an organ or region of the body. A single x-ray can only show us a 2D picture and may leave out vital details. By taking multiple x-rays or 'slices' through the area of interest, we can reconstruct a 3D image for more complete evaluation.
CT scans allow us to see areas that are otherwise hard to visualize, including the nasal cavity, skull, or muscular tissue. They are particularly valuable for cancer patients to determine the precise location of a tumor and plan surgical intervention. Contrast dyes are frequently used with CT to help enhance the appearance of abnormal tissue.
In orthopedic applications, undiagnosed lameness may not be identified by exam and radiographs, and CT of the limb likely will add more information and facilitate a diagnosis. CT is also the "go to" imaging technique for certain conditions, including portosystemic shunts (liver shunts) as well as ectopic ureters. Whatever the application, CT is a safe and quick procedure but will require general anesthesia to keep your pet still for the entire process.
---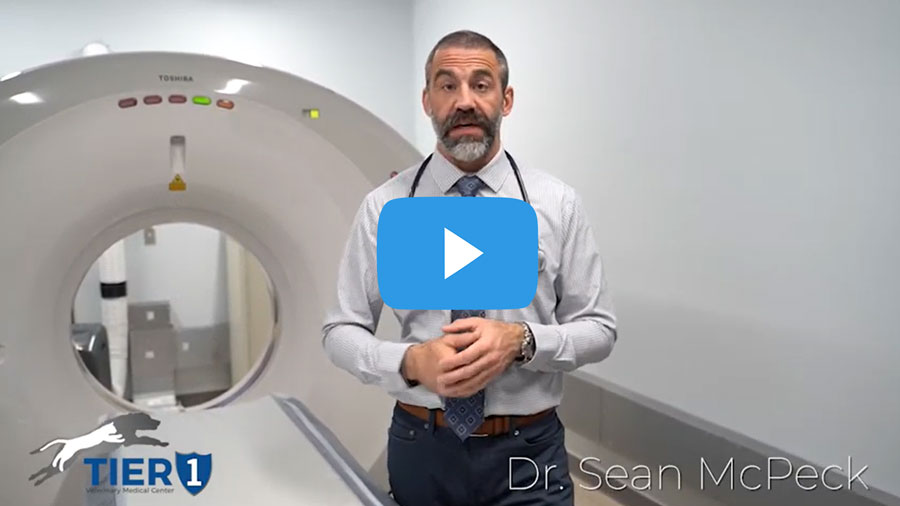 ---
---
Fluoroscopy is another valuable imaging technique available at Tier 1. A single x-ray only provides a brief snapshot of an organ in motion. Important functional abnormalities may be missed. A fluoroscopy machine takes a continuous series of x-ray pictures to produce video of a moving structure. It is most commonly used to diagnose diseases of the airway, esophagus, urinary tract, and vascular system.
Fluoroscopy can be used with contrast dyes for real-time evaluation of swallowing disorders or urinary problems. Using fluoroscopy, we can perform minimally-invasive therapeutic procedures such as stent placement for tracheal collapse. In addition, fluoroscopy can be used for guided bone biopsies, precise nerve and joint injections, and guided delivery of Stem Cell and platelet-rich plasma (PRP) therapy.
Advanced imaging techniques ensure that your pet receives an accurate diagnosis and a more successful treatment outcome. The imaging department at Tier 1 collaborates closely with our medical and surgical teams to provide your pet with exceptional care.
---
---
Making the decision between CT and MRI can be daunting and will not always be a straightforward answer. It is best to understand which modality will give you the best results for your patient. While CT is better at imaging bone and lungs, MRI provides exceptional soft tissue contrast. Other differences to consider are time to obtain images and cost. The length of time to do a CT is much shorter than a MRI and there are certain cases where a CT can be done under sedation instead of anesthesia. Furthermore, due to the intricate instrumentation needed for MRI imaging, it is more costly than CT. 
---
Here are a few examples to help decide between CT and MRI:
---
MRI: 
- Seizures
- CNS diseases
- Spinal cord disease
- Fibrocartilaginous embolism
- Malignancy of liver tumors
- Muscle tears and strains
- Cranial cruciate rupture
---
CT:
- Thoracic disease
- Abdominal disease
- Chronic otitis
- Elbow dysplasia
- Nasal disease
- Head trauma
---